A Fairy Party with Fairy Freckles and Friends
Are you looking to add some magic to your kid's party? Then why not choose a fairy party? Fairy Freckles and Friends are experts at delivering professional entertainment for children's parties and fairy parties are what they do best! Fairies are magical and mythical creatures who love to spread their special blend of fun and love to humans. While fairies may have been around for hundreds and hundreds of years, their appeal - like their looks - remain ageless. A fairy party is sure to be a hit with your kids, and by choosing to use professional fairies for your party, you'll be taking the strain away from yourself and have more time to relax and enjoy the party as well. Fairy Freckles and her friends especially like to bring the fun to the party.
A Fairy Party is Fun for Everyone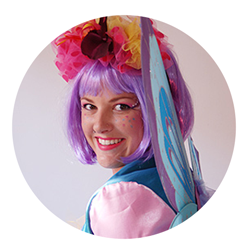 Fairy Freckles is one of the most fun loving fairies in the world. Using her fairy wings, she'll fly into your party from her home 'Somewhere Over the Rainbow', spreading fun, love and magic wherever she goes. Her fabulous rainbow freckles give Fairy Freckles her special magical powers. At the party, she'll be busy making sure everyone is included and enjoying themselves, turning party guests into fairies with her magnificent face painting. When she's not at a party, Fairy Freckles favourite thing is to paint fairy wings, so all the fairies can look as beautiful as she does.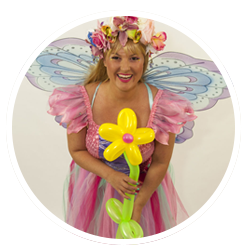 The Flower Fairy is another very special fairy who is the perfect party host. Of all of Fairy Freckles friends, The Flower Fairy is the most beautiful. She also lives 'Somewhere Over the Rainbow'. When The Flower Fairy flies into your party, she'll be bringing the fun and magic with her. The Flower Fairy is happiest when she's playing games, making flower balloons, and making beautiful flower face paintings on all of her party friends.  When it comes to painting flowers on people, The Flower Fairy is a real expert because her job when she's not at a party is to paint all the flowers in the world, making sure they all look pretty.
A Fairy Party Melbourne that can't be Beaten!
Fairy Freckles and Friends understand that you want only the very best for children and for them and their friends to have a great time at their party. That can mean planning a party puts a lot of pressure on you, but Fairy Freckles and Friends are here to help you. You've earned the right to relax and enjoy the party as much as anyone and we're here to make sure that's the case. Fairy Freckles and Friends provide the best fairy party Melbourne. They pride themselves not only on their professionalism as entertainers at the party, but also in the planning stages. The team at Fairy Freckles and Friends have a range of options from which you can choose, and are also happy to work with you to include any ideas or special requests that you may have whenever possible. There's no need to worry. Once you've invited the fairies to your party, all the fun and games are taken care of meaning you have one less thing to worry about and it's guaranteed that everyone at the party – adults and kids alike – will be having a great time.
Fairy Freckles has a number of other friends who you might like to book to come to your party. Giggles the Clown is always fun at a party and if you want to get everyone laughing, there isn't a better entertainer out there. Pirate Pete or Pirate Pearl will get boys involved with their balloon pirate swords, and The Rainbow Mermaid will appear from under the sea to show off the special magic tricks she learnt from the magic dolphins. Everyone loves a unicorn and Unicorn Twilight Sparkle will really add the sparkle to your party. She'll do stunning face paintings of rainbow unicorns and make beautiful butterfly balloons. With over five years experience as kids party entertainers, Fairy Freckles and Friends are experienced, highly acclaimed and professional. Bring the magic to your kid's party by inviting these special party guests!
See Our Packges
REVIEWS
Anabelle loves fairies, and she was so excited when The Flower Fairy turned up to her party. All the kids had a great time, and it really took the pressure off of me as everyone was really engaged and having fun all the time. Absolutely brilliant, and highly recommended. Janice

Thank you Fairy Freckles! Everyone really loved all your games - especially your face painting, and you were so good with the kids. Once you were there everything was taken care of, and I think it's the first time I've really been able to relax and enjoy my daughters' birthday party properly! Anna

Wow! Fairy Freckles was amazing with everyone at the party. Super impressed with how great she was to deal with before hand, but at the party she took it to a whole new level. Everyone loved her face painting and games and I don't remember seeing a kid's party before where everyone was so happy. Thanks again, can't wait for next time. Christine